MYOB Accounting System
now browsing by category
All about MYOB Accounting System
GST 03 submission – what and how to review the GST 03 before you submit to Customs.
This workshop is open to all MYOB users who have already attended basic GST awareness course.
If you have no inkling how to record GST transactions in MYOB, then this workshop is not for you. Please attend the basic GST course first (call us to inquire)
Why attend this GST submission workshop if you already know how to enter GST transactions in MYOB?
Yes, MYOB Accounting software will generate the GST 03 report for you automatically based on the transactions you entered.
However,  the adage "garbage in, garbage out"  holds true.
From our experience assisting the users who have submitted their returns for April and May 2015 period,  we notice several common mistakes in their GST 03 form.
Find out what are the common mistakes people make in the GST 03 form, and how you can avoid making those same mistakes.  Learn from the mistakes made by others in their GST submission
Mistakes in GST submission can be avoided. 
How do you check whether the data is correctly reflected in the GST 03 form?
Attend our GST submission workshop to find out more.  Bring your MYOB datafile to the workshop
You will get a Free GST Review Checklist,  to be used with MYOB software, when you attend our GST submission workshop.  Use this checklist to check your own GST 03 form.

We will also allocate 15 minutes to 30 minutes per participant where we will go through the MYOB datafile together and show you the steps to correct the mistakes in your own MYOB datafile, if any.
What else will you learn from the GST submission workshop
– Get a clearer understanding on the application of GST Tax codes
– Treatment of Reimbursement Vs Disbursement
– Treatment for international business (GST on imports, reverse charge mechanism)
– How to submit the GST form online
– How to make the GST payment
– Logon to the TAP and go through the submission and payment
Disclaimer :  We do not profess to be GST consultants.  Any GST information that we deliver to you in the course of this workshop or training is generally available in the GST official website.   
If you have specific GST questions relating to your industry, you are advised to get consultation from a GST  consultant or the Customs officer. 
===================================
REGISTER NOW.
Fee is RM 689.00 per person, inclusive of GST.
Discount coupon applicable if you have attended any training conducted by us, or have renewed your MYOB Business Support Plan through our Company.
Overview of the available functions in MYOB accounting system
Most businesses will use either one or a combination of the 7 MYOB command centres to manage their daily business transactions.
There are many versions of MYOB Accounting software sold worldwide.  Some of the regions have made modifications to the software to suit their respective country's needs, and the interface may not look the same as what you see here.
The screenshots shown on this website is applicable to the MYOB International version, MYOB Malaysia version, and MYOB Singapore version, with some minor differences.  The version sold as MYOB Australia and MYOB New Zealand versions will have an additional Payroll Command Centre, while the version sold as MYOB Hong Kong version is capable of handling simplified Chinese characters. There is also a MYOB version for the Mac machines, which has a different interface suitable for the Mac operating ssytem.
Nevertheless, despite the different versions sold worldwide, the workings of MYOB Accounting system is fundamentally the same.
1. MYOB Accounts Command centre

2.  MYOB Banking Command Centre
3. MYOB  Sales Command centre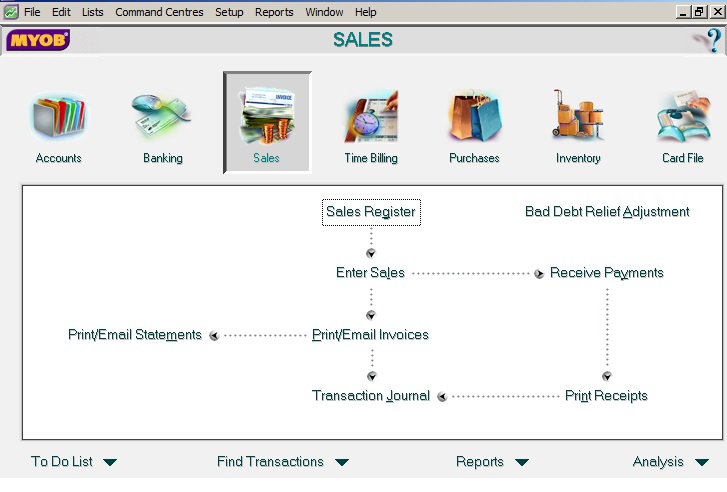 4. MYOB Purchases Command Centre
5. MYOB Inventory Command centre
6. MYOB Card File Command Centre
7. MYOB Time Billing Command Centre  
(only available in MYOB Premier range of software)
For more information on each command centre in the MYOB Accounting system, please click on the relevant options.
Which MYOB Accounting Accounting software is suitable for your Malaysian business?
Here is a quick glance at the MYOB product comparison chart.
The following questions will help you narrow down which  accounting software Malaysia to choose:
1. .How many users do you require
2. Do you deal with stocks?
3. Do you need to track supplier bills and payables outstanding
4  Do you need to invoice your customer,  or do you buy from a supplier, in foreign currences?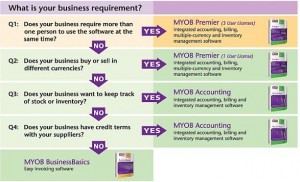 What is MYOB Accounting system?
MYOB Accounting system is a computerised accounting software that is used by businesses to  record and print sales invoices, purchase orders, and expense payment vouchers.
The accounting software comes with hundreds of standard reports, including financial  statements like Income Statement and Balance Sheet, which helps the business owners understand their business better.
The MYOB system fully integrates operational functions with accounting functions, and comes with stock control functions to monitor the inventory levels.
Once properly set up, the system is a great business tool for small to medium sized enterprises  (SME). to manage their business.
7 Reasons why MYOB Accounting system is one of the most popular accounting software in the world.
MYOB accounting system uses graphics and common terms to help you move around.  This helps to  shorten the learning curve for first time adopter of an accounting system.
No accounting knowledge is required to use the MYOB accounting system.  Accounting double entries are completed for you behind the scene once you record the business transaction. Business owners and the operational guys can easily operate the system after some familiarization..
The accounting system fully integrates production and operational data with accounting records. Keep your information in one place for a complete picture.
It provides real time information. You can get your reports anytime you want. No 'batch posting' is required.
MYOB system simplifies complicated processes.  There are only 7 places to record your entire business transactions.  Complete an entry in a few minutes
It has powerful features which are usually available in higher end accounting software, thus it is a  'value for money' investment
The system has been around since the earlier 90's.  It is a stable product, supported by many partners across the globe, and can be easily integrated with other systems like CRM and online web stores